Puppies – our offer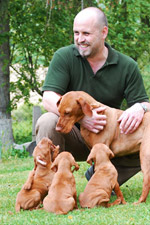 The breeding station Gurdau is pleased to offer you one of the puppies Hungarian Short-haired Pointer and Parson Russell terrier from our breeding females.
The father of puppies is always carefully chosen in collaboration with the club advisor. We offer only puppies with pedigree, equipped with an international certificate of vaccination. Puppies, like their mother, are under regular veterinary supervision, they are re-vaccinated and wormed. For candidates we offer not binding visit in our breeding station in time before birth or when puppies are born – and when it is possible the – choice of particular puppy. Of course, there is a consulting service in the field of education and training.
A puppy from us you can book throughout the year either by email or telephone.
The list of litters