Our breeding of Parson Russell Teriers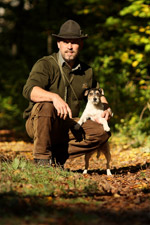 Parson Russell Terrier Arka Bíla střela is currently the only breeding female of this breed in our breeding station. My efforts in training and practical guidance of Arka are to access her as a representative of the old hunting breed and fully exploit its advantages in the hunt.
Today, the breed of Parson Russel Terriers is very popular throughout Europe. Their optimistic, active and playful nature doesn´t make sad anyone. The majority of the Czech Republic is not guided for hunt, unfortunately. And that´s why Arka – with her list of successfully completed tests of hunting – is an absolute exception. Only carefully selected dog will be entitled to service Arka, the dog successful not only in the show field but successful also at work, one of the best in our country. I would like to make something like "working-line" (if I can call it like this) in the breeding of Parson Russell Terrier.
The result should be easily trained descendants, suitable for competitions and tests, as well as for their utilization in hunting. My goal is Parson Russell Terriers with balanced, self-confident characters, with reasonable but controllable sharpness, which are easy manageable and friendly to people. Multiple screening of temperament qualities of their parents at work and in tests is an objective guarantee that the puppies will inherit the best.
---
The profile of our breeding female (Parson Russell Terrier)
Arka Bílá střela
registration number
ČLP/PRT/1324
born
November 9th 2008
father
Alien Ťapka
mother
Mild Meini z Jeřeně
test and exhibitions

Show of young individuals
Blood-tracking exams in Břeclav, 1st prize
Den-hunting tests in Prostějov, 84 points
Forests tests in Vyškov, 1st prize
Blood-tracking exams in Vyškov, 2nd prize
Den-hunting tests in Brno, 78 points
Den-hunting tests in Břeclav, 84 points
Blood-tracking exams of hunting dogs in Brno, 1st prize
The National Exhibition – very good
In the contest "Best Parson Russell Terrier in the Czech Republic 2010" – 2nd

exterior and nature
Arka Bílá střela (called Arinka) is a middle figure, 33 cm height at withers, hair "broken", colour tricolor. Her nature is friendly, she is very nice to people. She is fearless and confident towards other dogs in the team, but she is distrustful of strangers. She is sharp in contact with the intruder, sharp in contact with minor and hoofed animals. She ensures prudence against wild boars, she doesn´t mindlessly go into risky contact, fortunately. She is in intermittent visual contact with the leader during the free movement in the field. She is loud only in the contact with the game or on the hot trail. She is almost perfectly manageable.