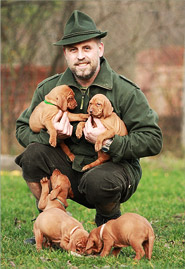 The Breeding Station Gurdau
The hunting dog in the breeding station Gurdau is seen not only as a helper of the hunter. Its role as the family member, companion and friend is equally important. Friendly approach of people clearly reflects the relation in reverse – the dog to the people. All dogs have warmly friendly relationship with all family members.
Commonplace in the management of the dog is an individual approach of its trainer to each individual selected in accordance with its specific character traits, its temperament and its ability to learn new things. We believe that this is the only way you can achieve a unique friendship and harmony between the dog and its leader, just so the dog knows what it is doing and why. Mutual trust between the dog and man is placed above the mindless execution of orders here, in Gurdau. Our goal is calm, equable and non-stressed dog which is cooperating with joy and willingness.

---
News
We are going to offer puppies of Parson Russell Terriers and Hungarian hunter during this year. We are accepting reservations by telephone or e-mail.